Like you, I didn't realise that our lives and way of living would change so drastically since my last blog post in February. I have been keeping an eye on the developments in China since January and I have mentioned Coronavirus in my last blog post, and social media since February but there was very little to prevent us from what we are now witnessing and experiencing in our own lives.
On 23 February on my drive back from the South East, the radio mentioned draconian measures enforced in Italy to prevent the spread of the Coronavirus (COVID-19) – little did we know that this will lead to other lockdowns in the UK and most parts of the world. We are truly in this together and I am covering my experience of this time in quarantine, social distancing and social isolation, as they are now known. We are also going to give this virus a good fight and there are amazing human stories that are a result of this strange and exceptional time in history.
This slideshow requires JavaScript.
The Coronavirus (COVID 19) virus is evidently infectious, contagious and dangerous to humans all over this world. It is currently having a devastating impact with a high level of mortality in China, Italy, Spain, Iran, France – with growing numbers in the UK, USA and other countries to follow. This virus has not only affected our working lives but the whole essence of our being and freedom with uncertainty in unprecedented times. We must stay in our homes with our immediate families to prevent the spread of the virus, and to decrease the pressure on health systems. The only places we are allowed to go to are places to get food, necessities and exercise.
I have read about the history of pandemics but never thought that there will be a time when we will be in the same situation. I was amazed to see that these plagues or pandemics were threats that humans have had to fight off since the beginning of time. The infographic above was shared on social media and is a great eye-opener for previous pandemics, to the modern epidemics like Ebola, SARS etc. I still remember reading as a child that we say 'Bless You' after sneezes due to the plague whereby the Pope Gregory encouraged it as a blessing for the ill. Quarantine is also the Italian word for 40 days isolation (Quaranta) from the Middle Ages when merchant ships return to ports to prevent the spread of foreign diseases. It is also interesting to learn that Shakespeare also lived and wrote through the plague with references in some of his major works like 'King Lear' and 'Macbeth'. It was also a terrible time for the theatres and other social gatherings such as theatres, which were closed in that period.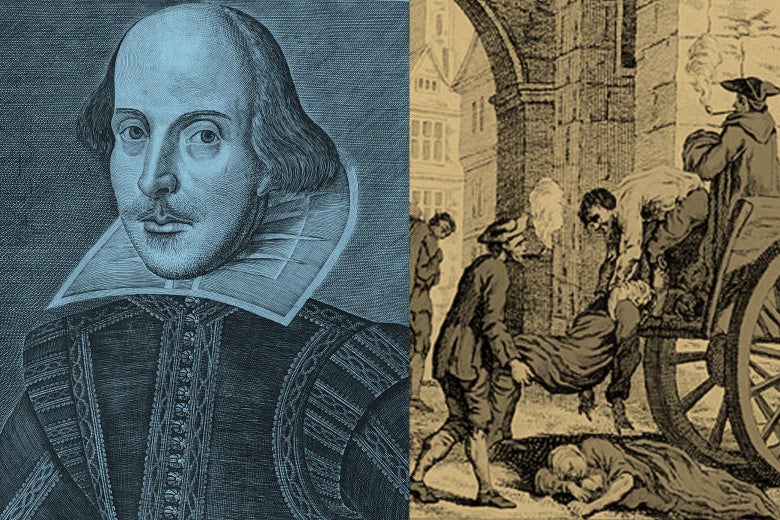 The most intriguing for me is the Spanish Flu 1918. I vaguely heard it mentioned in the past but due to the current coronavirus, there are similar references to it and a reminder that only a few living persons now have memories of it. The National Archives has a letter from 28th October 1918 by E.S. Bennett from Walthamstow with the rate of death is mentioned as "Doctors are on 'constant call', while undertakers 'can't turn the coffins out or bury the people quick enough". IWM 96/3/1 (28 Oct 1918)
There are some other interesting blogs on this topic if you have the time to read – "In 1918, the death rate in Britain exceeded the birth rate for the first year since Government started maintaining records in 1837.  Yet this was not due to the First World War, but to so-called 'Spanish Flu''. It is reassuring to see other human experience of this in the past and that it is not going to last forever despite the high level of death. These experiences will hopefully make us more resilient for the future.
Now back to the present time Coronavirus pandemic. When Ebola was getting under control a few years ago, I do remember this video by Bill Gates but it is interesting to hear his prediction on the current pandemic and the state of unpreparedness if this was to be on a larger global scale as it is now compared to the West Coast of Africa. This is now real. Believe me – I have family and friends in lockdown all over this world and we are worried and concerned about their safety and welfare. We have been hearing first hand from relatives from Italy as the scale of the pandemic increased, and they were put into lockdown. We were having first-hand stories on the situation and the changes they have had to make for work (getting permission to move about by Commune in Italy) and remaining at home. This was soon to be our own experiences. I remember seeing the sale of pasta flying off the shelves and the queues outside supermarkets in Italy as the country went into lockdown. However, they have generally been organised and didn't have the level of panic buying as in the UK for groceries. Their tone has become more and more concerning as the weeks progressed with further bad news with the viruses devastating effect in Italy.
This slideshow requires JavaScript.
Italy is by far the hardest-hit country in terms of recorded deaths as I write this blog post – even more than China where it starts perhaps late November 2019. It has been heart-breaking in the last few days seeing the level of deaths and this has to be investigated further for the reasons for the spread of the disease there. There are probably a number of reasons for the spread of the infectious fatal virus – Milan has links to suppliers in China, there was a football match in Milan between Atlanta (from Bergamo) and Valencia, the commutable towns close to Milan which are affected, and the whole social way of life and extended family life in Italy. It also has one of the highest aged populations in the world and other contributions to the spread – from the Italians communal living in flats, church attendance, general close human contact with the extended family and friends. This was sadly breathing grown for the virus and contagions to spread. This is just my personal view and thoughts from what I have read, but hopefully, there will lessons learnt from this devastating impact of Coronavirus in the Lombardy region. Similar stories are also now unfolding to various degrees of death and virus cases in Europe and other parts of the world.
This slideshow requires JavaScript.
In the early weeks of lockdown, the Italians in quarantine were able to use their time to spread cheer, joy, happiness from their balconies and neighbourhoods. This has changed in recent days due to the sheer devastating number of death and virus cases coming out of Italy. In Spain, France, Iran and the UK – we have all been cheering on our healthcare workers and key workers through this difficult, anxious and dangerous time on the front line.
In hindsight, we could have all been more prepared for the pandemic with critical care information, preventative and preparation for our lives and the health service. There has been a slow build-up of information for us to be more vigilant – with was your hands better, sanitizer and eventually with social distancing and self-isolation. Eventually, the state had to step in due to much movement in our everyday lives to work, school, business and other commitments. Coincidently, I was off from work from the 13th March and only went in for a few hours on 18th March. Since then we have been working form home and adjusting to life.
This slideshow requires JavaScript.
At short notice too, I had to drive to Derby to pick up my son from University. My 16 year old had just finished his mock exams but was told that same week will be the last week of his year. This was also an abrupt end to his secondary year with a quick assembly to wish his friends and teachers goodbye…for now. Graduation ceremonies are also postponed. I do agree this had to be done because I think we were not aware of the impact on and the dangers of children spreading the disease further to others in society. Nurseries and other children services are also now closed. For parents with young or special needs children – this will be a challenging time. However, I think in the next 5-10 years, children will understand this shut down was for the greater good and it is to help with the prevention of the spread of the virus and support for our health systems.
Just like my colleagues at work, we were also unprepared and shocked by the lockdown that has been happening in China in the last few weeks. I made the decision to go into work on the 18th March to tie up a few loose ends, and even though I have worked remotely one day of the week when my children were younger, I haven't done this at all at the British Library as we are very much face-to-face interactions with our customers in the reading room, workshops and in one-to-one advice. In the last ten days or so, we have really had to adjust our offering with continuing some of the digital information services and knowledge that we can share remotely. We have been working swiftly to change our programmes where possible to be delivered from our homes and I think this is going as good as you would expect considering the unexpected and unusual circumstances we find ourselves. Our physical events have moved to online events and we are seeking research resources that are open-sourced on the Internet. However, most of our resources are still unavailable due to the contractual and technical issues and are not available remotely. The library's rich hard copy collection is also locked up securely until we are able to access them again. Information Professionals in the 21st century are digitally advanced and some of us are able to offer services remotely, and curate content that is available for free.
This slideshow requires JavaScript.
Some of the winners in the digital switch in lockdown are systems such as Zoom, Skype, House Party, Whats App and VPN (Virtual Private Network). Also, effective digital communications have been an enabler in this real-life crisis management scenario. I have hosted and attend video conference meetings at home using Go-to-Meeting in the past, and will continue to do so in lockdown. We are also looking to host online learning and workshops with Go-to-Webinar. In both my stay-at-home day job and volunteering with SLA Europe – we are using these technologies. As with human behaviour – there is a lot of humour and reassurance with some technical issues that we are all experiencing. It certainly is a learning curve! However, I have been through the 7/7 London Bombings, the London Riots 2011 and other causes for working from home in a crisis.
It is also great to see that people are looking after their wellbeing, mindfulness, kindness and exercise routine despite being stuck at home. We have also hosted webinars for working remotely and doing research from home. Some of the best tips are to make sure you have a routine, a positive mindset, exercise, be realistic on what you can do from work, and also use your time wisely. This is where our home lives merge with work life and you have to understand your own boundaries.
This slideshow requires JavaScript.
One of the most remarkable aspects of the pandemic was access to food and essential supplies. As I was off work on the 13th March – I noticed that there was panic buying and the supply chain was disrupted to a very severe level. These carried on for about two full weeks until my supermarket was able to introduce social distancing and more sanitised procedures for their customers and staff. Local shops have also been useful to supplement some of the supply issues the UK was experiencing. The whole joke about toilet rolls selling out was amusing…but seriously, it was also the same for fruit, vegetables, rice, bread, pasta etc. Online deliveries were also most affected and I was unable to get my normal slots. Even if I do online food shopping now, I am not sure if I can get everything I ordered with the disruptions in supply. The use of bidets in Italian homes may be one of the reasons there wasn't the toilet paper panic buying there. In the UK since lockdown, there are also cases of people breaking the stay-at-home rules by having parties or going to beauty tourist spots when they should really stay in their vicinity.
This slideshow requires JavaScript.
One to the biggest impact is that we are not allowed to travel and fly as freely as some may like, but seriously it is also one of the components for the escalation of the infections of the virus spreading so easily in the age of globalisation. It is also great that we may have some light relieve on our CO2 emissions in this quiet travel time. Airlines and travel agencies are obviously struggling due to travel restrictions but it may be a good time for us to reflect and change our behaviour with regards to unnecessary flying.
This slideshow requires JavaScript.
The virus has no boundaries and affects all of us. It really brings to mind the way civilisations are organised, governed and the role of citizens. Businesses have had to shut down and are only able to open in cases of necessity. There are still some businesses that are still open like take-away food services, pharmacies and pet shops.  The others are closed due to public health orders to protect staff and the public from gathering. This fatal disease has not discriminated and so, big as well as small businesses are affected. The self-employed, charities and other voluntary organisations are also affected. Even if you are retired – you are still affected, as you do not have your freedom to roam. The pressure is building on businesses to adapt and implement their business continuity and crisis management plans. There are some positive aspects and re-purposing such as companies that are helping with changing their models – such as producing sanitizers, ventilators, Personal Preventive Equipment (PPE), food supply rather than restaurants, etc. However, it must be clear that the global economy will be affected and there are hard days ahead with a recession predicted. There are some companies that are stepping up to the challenges, collaborating and also protecting their staff and clients. The trade unions are also busy looking after workers and making sure that workers are protected in this very difficult time. We will also see that the use of goodwill and kindness will be essential when we press the reset button when this is over.
This slideshow requires JavaScript.
Local community groups were foreseeing these changes before workplaces and government. One of my neighbours quickly organised community leaflets for older or non-digital neighbours to contact us should they need help with shopping or anything in the imminent lockdown. Thankfully we are able to coordinate and support each other on various local services and also cheer each other on in these difficult times. It is strange going around with shops and businesses closed. As we are allowed an hour of exercise, I have tried to go out every day for a walk locally to get some fresh air. It is difficult in an urban setting to practice social distancing but most of us are trying to keep our distance. In the run-up to lockdown, I had to cancel three social events with friends, and even birthdays and Mother's Day are celebrated apart. We have been in touch with friends and family by Whats App, Facebook Messenger and Zoom – just imagine if we didn't have these technologies and only had to rely on letters.
People are also using this time to catch up on all the leisure and homebound tasks that they do not have had time. This is one of the best aspects for using our time in lockdown to do the things we never really had time for – film, music, reading, gardening, talking more and spending time with dear ones in our homes. I do recognise that not all of us have families and there is a lot of loneliness, anxiety, depression and mental illness that will be exasperated by being confined. I dread to think of the homeless, people with mental illness and in the community who are less fortunate and how they are coping with this. I do believe that they are being cared for by social care and local government agencies.
This slideshow requires JavaScript.
As the pandemic has spread across the globe, concern for the wellbeing and safety for family, friends and communities near and far has become an obsession. This is a global issue for human life where ever we are. It really is unique in our living collective experience. We are facing the same issues from within our homes and we are reliant on the same care systems to get us through it. Unfortunately, this is still on-going and we are still to know the devastation that the virus will have on less prepared and poorer countries. Italy, Spain, China, France Iran and USA are leading the death barometer, and they are struggling – we can only hope that the impact will not be as devastating in less developed countries. The assistance offered from Cuba and Russia and other countries to Italy has been good to see online and restores your faith in humanity. This story from the New York Times is a must-read on the situation for families in Italy during the Coronavirus pandemic.
Since January, there has been news coming from China but the number of deaths at first is alarming and the lockdown was weirdly fascinating to see in the news. However, since the virus's exponential spread to Western Europe and the Middle East, this has been one situation where you can look at the news on social media and get information, news coverage and datagraphics that is supplementary from the normal broadcasting agencies. I am also able to keep abreast of the developments in the Caribbean and North America from social media and website feeds. I have been looking at facts and figures at BNO Newsroom, World in Data and the Financial Times (who has loosened their usual pay-wall). There are also the usual suspects – fake news, misinformation, disinformation, propaganda, fraud, cybercrime and scams by rogues. This is also a gentle reminder that the NHS has a great number of information centres and libraries with professionals who are providing library and knowledge services.
With the COVID-19 pandemic overwhelming healthcare systems and some level of lockdown in all corners of the world, we find ourselves in an unprecedented era of information demand. At the same time, the pace of discovery and dissemination of information is faster than ever before, creating uncertainty and stress about where to find reliable answers. …While these initiatives have not been associated with the COVID-19 pandemic, the urgency of our current situation has shifted the focus to developing solutions to improve the knowledge ecosystem today.

– Dr Brian Alper EBSCO The Development of a Covid-19 Information Portal

https://health.ebsco.com/blog/article/the-development-of-a-covid-19-information-portal

 
The most important lesson to learn about Coronavirus Covid-19 is that we are fragile as humans. Good health and access to healthcare are the most important factors in our lives. This is something some of us have known for a long time and it is with utter respect and understanding that we should invest, support, provide and reward our health services in this country and around the world. Public services and local government services are also in need of our support to keep the engines of society and humanity at an equilibrium. Outside hospitals, good hygiene and sanitation are getting attention now but there is still a lot to be desired. Low paid 'key workers' have been providing us with our essential foods in the urban environments but we should be grateful to everyone – from the rural farmers, delivery drivers, the rubbish collector, postal services, local shop keepers, emergency services, police, firemen, park keepers, pharmacists etc. Those who do not use these now vital services, or any public services should go live in their own isolated country! Whilst we are inside our homes, the key workers are out in the front line fight overtime in the good fight for us.
This slideshow requires JavaScript.
We still are in the heart of the Coronavirus pandemic and I am not sure how this will turn out for all of us. The cost of human life is enormous. And the impact in the economy is also bad. However, we need to support our health care systems and services. We also need to support everyone whilst we stay at home, follow instructions to avoid social gathering and practise social distancing. The human stories that find their way to the media are exceptional and very heart-breaking such as the medical staff who lost their lives, to the thousands who have died or been affected by the virus. One thing about past plagues in previous centuries is that life carried on to a certain extent and humanity was not totally wiped-out. Obviously, it is very sad for the millions of lives lost such as in the Spanish Flu 1918. I am not sure what the situation will be with Coronavirus by the end of April (or in future months) but we will come out of this hopefully together.
This slideshow requires JavaScript.
Everything and everyone has become a player in this real-life apocalyptic movie with this deadliest disease in our modern memory. As we spend time with our families and dear ones, we must cherish and care for each other. We are discovering things about ourselves, and hopefully using this strange and quiet time in quarantine to do some fun and creative things we didn't have the time to do. Love sustains. We will also be better resilient persons for understanding life and love in this time of coronavirus.
You just have to walk around in the quiet streets to realise that our human life is on pause until we beat this virus – country by country, community by community, and human by human.
This slideshow requires JavaScript.